There is more to the costs of buying a house than simply just the listing price. When you're buying your first home, this fact can, unfortunately, be missed in many people's budgets. As a result, they can find themselves caught short. Additionally, it can even be a struggle for experienced home movers to keep track of the additional costs associated with buying a home.
It's never nice to feel like you don't know what to expect, certainly with an investment as huge as homeownership! You need to know what you should look out for, and what you should or shouldn't expect. Hopefully, by the end of this article, you'll have a greater understanding of the costs that need paying to buy a house, and won't be caught off guard in the future.
Please note that the bulk of this information pertains to buying a property in England or Wales. This excludes where otherwise mentioned.
The Typical Fees Involved in Buying a House
Let's begin by looking at the typical fees involved in buying a house, specifically the ones that relate to charges from the bank, fees from the land registry, and mortgage broker fees (which need not apply if you go through us!). Most of these costs can be divided into the following categories:
Mortgage Booking Fee
The first to consider in the costs involved in buying a house will be the booking fee for the mortgage. This is sometimes referred to as an application or reservation fee. If your chosen mortgage has one (it may not so check with your lender) you will have to pay this fee to your lender upfront as soon as you submit your application. Some lenders may charge a mortgage booking fee to secure a fixed-rate, tracker or discount deal. This booking fee is non-refundable, so if the property purchase falls through you won't see it again. The fee will cost around £99-£200, though some lenders may not charge it at all.
Mortgage Arrangement Fee
One of the most common fees involved in buying a house is the arrangement fee. This is the product fee you pay for the lender to set up your mortgage and to cover admin costs. Arrangement fees are often part of the cost of a mortgage, along with the interest rate. Many mortgages in 2021 are issued with arrangement fees. The price of arrangement fees can vary significantly and could reach up to £2,000, but will usually range between £100-£1,500.
Your lender can offer you the option to pay this arrangement fee upfront or stack the fee onto the mortgage loan. Choosing the latter option, however, will cost you more long-term, as you'll have to pay interest on it. On the other hand, choosing the upfront option can also be detrimental if the purchase falls through. This is why you want to be sure you choose a trustworthy lender when it comes to considering the costs of buying a house. Some arrangement fees are charged as a percentage of the loan, rather than a flat fee.
Out of all the fees when buying a house, the arrangement fee is highly important. This is because of its potential impact on the total cost of your purchase. Loan size can affect what deal is best for you. Opting for higher interest rates but lower fees can be more beneficial than going for lower rates with higher fees. Your personal circumstances will tell you which option is best!
There are many options available for you to consider, such as a 95% mortgage or the Help To Buy scheme.
Land Registry Fee
The Land Registry is a government authority that keeps all records of registered properties in England and Wales. It is their responsibility to register and transfer the property under the new owner's name. Because these are one of the costs of buying a house, you will be charged for this transfer by the Land Registry and pay via your solicitor. The price of this fee is dependent on how much your property is worth. Please consult the following table (figures sourced from Gov, 2021) for an approximation of common land registry fees:
Valuation Fees
Another cost of buying a house is the valuation fee. Your lender will carry out a valuation of the property you wish to buy is priced correctly. Whilst this seems helpful, the reasoning serves only the lender. Lenders do this to protect themselves in the event you default on the mortgage (are unable to make the repayments) in the future. By having an accurate valuation on the property, they will know that they can repossess the house and sell it for a profit, to recoup their losses.
Valuation fees can vary significantly and are affected by both lender and purchase price. Sometimes it can be included in your mortgage deal as a free extra. On average, however, you should expect the price to be between £200 and £700 if you have to pay for the valuation. This will be dependent on the lender, and the size/value of the property.
If you are looking to buy a property in Scotland, one last thing to remember is that the seller must provide a Home Report, which incorporates a valuation fee. As long as it's dated within the last 12 weeks then your lender will accept the Home Report as opposed to charging a valuation fee.
Broker Fees
In the case where you are using a broker, they could charge you a fee. This will add to the costs of buying a house, but many brokers only get their cash from the commission a lender pays them, so can be fee-free for you to use. Otherwise, a broker could cost up to £500. You'll be delighted to hear that we fall into the fee-free camp!
Solicitor Fees for Buying a House
A solicitor is necessary to ensure your purchase is smooth from a legal and financial transaction point of view. While necessary, solicitor fees add to the extra costs of buying a house. A property solicitor or licensed conveyancer is needed to handle the legal aspects of buying a house and you will have to pay them. Solicitor fees cover conveyancing (dealing with the transfer of ownership), correctly overseeing paperwork, and managing other factors such as planning permission issues (such as outstanding planning applications) and environmental issues to name but a few.
Some lenders can cover these fees, but only if you go with a solicitor they have listed. Alternatively, lenders may only compensate you for the costs of hiring a solicitor after the mortgage is completed. Using your own solicitor is allowed, but only after the lender has verified them. Solicitor fees are variable, so it is worth seeing what is available before you make a decision. Whether you seek a self-employed mortgage as a quality local builder or are looking for a premises for your cybersecurity company, a good solicitor is important!
Conveyancing Fees
Conveyancing solicitor fees can cost between £400 – £1,500 and tend to be broken down into standard legal fees and disbursements. Disbursements incorporate local searches and may be priced up to £300 in addition to your standard legal fees. Disbursements are fees charged by third parties, such as bankruptcy and ID checks, which the conveyancer collects from you and pays on your behalf. Consult the table below (sourced from Which, 2021) for a full spec of conveyancing fees:
Your conveyancing fees will cover the solicitors' time, registrations, and costs and are payable directly to the conveyancing solicitor. All these minor fees will be paid over time. The overall price of solicitors fees for buying a house will be between £1,000 and £1,500. This will depend on the price of the property.
Stamp Duty
Stamp Duty Land Tax is a tiered tax on land and property transactions within the UK. You must pay it to the government when you purchase a property. Stamp duty must be paid out of your funds (not as part of your mortgage agreement) to your solicitor, who will then pay it to HMRC once your property purchase has been completed, making it one of the more personal costs of buying a house. You'll have 14 days to pay your stamp duty. The exact amount of stamp duty you'll have to pay can vary depending on factors:
First-Time Buyers
If you're a first-time buyer you'll be subject to a different rate of stamp duty tax. A property costing up to £300,000 will not come with stamp duty. If you're buying a property worth between £300,000 to £500,000 then you'll be liable for a discount. This is shown in the graphic below (sourced from Which, 2021):
Home Movers
If you're buying a property worth over £500,000, or buying a property for the second time, you'll have to pay the standard stamp tax duty rate. The stamp duty price is influenced by the value of the property and will be tiered like income tax. As a result, you'll pay different rates on different portions of the property price. This is illustrated in the graphic below (sourced from Which, 2021):
Property Survey Fees
A property survey is separate from the valuation fee we mentioned before. Whilst a valuation fee serves to simply confirm a properties existence and worth to the lender, a property survey is a more comprehensive inspection of the property and its features. These benefit you specifically. Property surveys can include checking for structural issues, or things that could develop into problems over time. Having a property survey isn't a requirement, but not having one could leave you in a tight spot long-term. It's best to know 100% that your home is in good condition. A property survey can also be a good leeway for renegotiating the price of the house.
Property surveys are an excellent method of spotting any of the following problems:
Damp existing in the property
Structural issues with the property
Plumbing problems
Flooding
Any other potential issues
Different Types of Property Surveys
You can commission different types of surveys, depending on your needs:
RICS Home Condition Report – A very basic inspection covering dangerous risks and legal defects. Only use this if you're confident you're buying a modern home in good condition, and its state won't deteriorate later.
RICS Homebuyer Report – Examines the property's general condition, offering advice on advice on repairs and maintenance. These are best for most standard properties in reasonable condition.
Building Survey (Structural Survey) – Provides a more in-depth analysis of the property. These are suited for larger or older buildings, unusual homes, renovation projects, and houses in poor condition.
Snagging Survey – Provides an extremely professional and thorough inspection to even minuscule details such as doorknob issues. Best suited for when you're buying a new-build property.
Consult the table* below for an estimation of prices: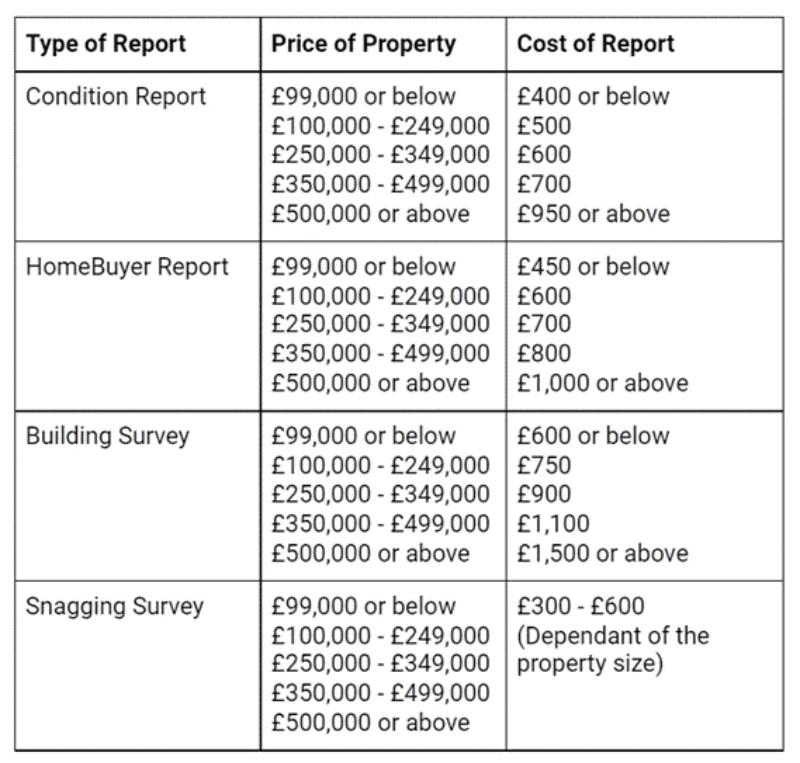 (*Prices courtesy of Which, 2021)
Remember to ask your lender how much it will cost to upgrade the valuation to a property survey in the application stage, as this will save you money. When it comes to the fees involved in buying a house, property surveys are one of the most important. This is because they can save you a lot of time and money down the line!
Additional Costs Associated with Buying a House
Here are some final lesser-known minor costs of buying a house you need to be aware of (all of these are optional):
Advice Fee
If you're getting your mortgage advice from a financial advisor when making your purchase, you may have to pay them a small fee. However, you could find an advisor that offers advice free of charge.
Moving Costs
You can hire a van for £45 – £100, a removal company for £230 – £720, or a removal company with professional packaging for £500 – £1,440. The cost of the latter option will depend on the number of rooms your current property has.
CHAPS Fee
CHAPS stands for Clearing House Automated Payment System. It can also be called a Telegraphic transfer fee. CHAPS is a payment method used for transferring large sums of money to be received on the same day. CHAPS transactions can start for transactions from £10,000 and upwards, with no upper limit on transaction size. This payment method will be used to cover the lender's price whilst transferring the mortgage fund over to your solicitor. Often, the cost for sending funds via CHAPS is £25 to £35. It will usually be non-refundable.
APR
APR stands for Annual Percentage Rate, which is present in all mortgages.
Own Building Insurance Fee
This is charged by your mortgage lender for checking you have taken out building insurance if you choose not to buy it from them. The fees are around £25 to £50 each.
Sum Totals
To bring all of the above together, below is a table showing the sum total of the fees when buying a house.
Hopefully, you now feel more aware of the costs of buying a house! You can now stroll through the housing market, knowing that Fees Free Mortgages has your back when you're budgeting for your dream home! Reach out to us today to find out how we can help you secure your mortgage.